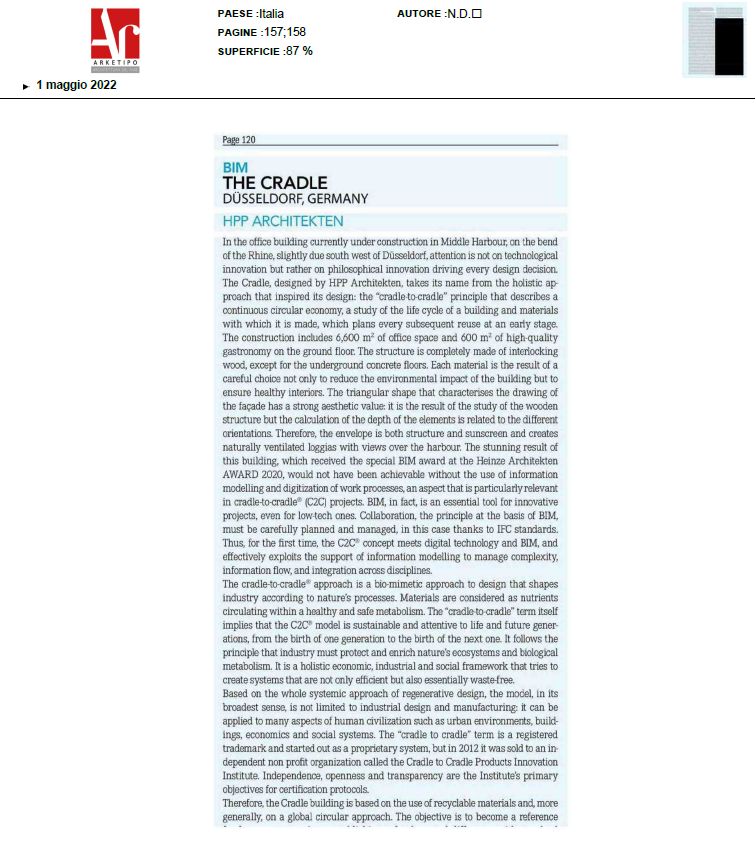 14 Mar

THE CRADLE – ARKETIPO 1 MAGGIO 2022

In the office building currently under construction in Middle Harbour, on the bend of the Rhine, slightly due south west of Dusseldorf, attention is not on technological
innovation but rather on philosophical innovation driving every design decision. The Cradle, designed by HPP Architekten, takes its name from the holistic approach that inspired its design: the " cradle-to-cradle" principle that describes a continuous circular economy, a study of the life cycle of a building and materials with which it is made, which plans every subsequentreu seat a nearly stage. The construction includes 6,600 m2 of office space and 600 m2 of high-quality gastronomy onthe ground floor. The structure is completely made of interlocking wood, except for the underground concrete floors. Each material is the result of a careful choice not only to reduce the environmental impact of the building but to ensure healthy interiore. The triangulars hape that characterises the drawing of the fagade has a strong aesthetic value: it is the result of the study of the wooden structure but the calculation of the depth of the elements is related to the different orientations. Therefore, the envelope is both structure and sunscreen and creates naturally ventilated loggias with views over the harbour. The stunning resultof this building, which received the special BIM award at the Heinze Architekten AWARD 2020, would not have been achievable without the use of information modelling and digitization of work processes, an aspect that is particularly relevant in cradle-to-cradle® (C2C) projects. BIM, in fact, is an essential tool for innovative projects, even for low-tech ones. Collaboration, the principle at the basis of BIM, must be carefully planned and managed, in this case thanks to IFC standards. Thus, for the first time, the C2C® concept meets digitai technology and BIM, and effectively exploits the support of information modelling to manage complexity, information flow, and integration across disciplines.